Publishing a course online and earning by sharing knowledge is a good way of making money these days. However, if it's about earning then the choice of a platform where you publish a course also matters. Since you have landed here there are high chances you are stuck in that confusion. To be specific the confusion is about Teachable vs Kajabi as these two are the most popular course publishing platforms out there.
Teachable is a popular platform for creating and selling online courses and comes in with a wide range of features. Kajabi on the other hand is neck to neck in terms of features and performance with Teachable but might sound a little costlier when you make a close comparison. As we look to clear your confusion and help you take a better decision in regard to publishing your courses we would be decoding the Teachable vs Kajabi.
Teachable: Features
To understand the two platforms better and have a comparison it would be good if we know what is on offer. In doing so we first take a look at the features of Teachable:
Course creation tools: Teachable provides an easy-to-use course creation tool that allows you to create and organize your course content, including text, videos, and quizzes.
Marketing tools: The platform offers a variety of marketing tools to help you promote your course, such as email marketing, affiliate marketing, and coupon codes.
Integrations: It is easy to integrate with a variety of other platforms, such as email marketing services, payment processors, and analytics tools.
Customizable landing pages: Teachable allows you to create custom landing pages for your courses, which can help improve conversions.
Student management: It has a good number of tools that help you to manage your students, including student profiles, progress tracking, and completion certificates.
Customizable checkout pages: To make conversions smoother it gives you the ability to create custom checkout pages, where you can add custom fields and create different pricing plans.
Secure hosting: Data security happens to be a major concern with online resources and hence the platform offers secure hosting for your course content and student data.
Custom domains: With Teachable you can use your domain name for your course pages
Affiliate program management: You can easily create and manage your affiliate program, where you can give commissions to other people for promoting your courses.
Analytics: The platform comes with built-in analytics to help you track student progress, sales, and revenue.
Kajabi: Features
The feature list of Kajabi houses most of what Teachable offers and something more. Here is what you get with Kajabi:
Website building and hosting: Kajabi allows users to create and design a custom website to host their online courses, membership sites, and digital products.
Course creation: One can create and sell online courses, with options for video, audio, text, and downloadable content.
Marketing and sales tools: Kajabi includes a variety of tools to help users promote their courses and products, such as email marketing and automation, webinars, and landing pages.
Membership sites: Users can create membership sites with different levels of access and content.
CRM and analytics: Kajabi provides customer relationship management (CRM) and analytics tools to help users track and understand their audience.
Integrations: Kajabi integrates well with a variety of third-party apps and services, such as payment processors, email marketing platforms, and webinar tools.
Mobile App: Kajabi also has its own mobile app for users to access courses from mobile devices.
Teachable vs Kajabi: The difference in features
As you saw the features of the 2 platforms it's important to see what differences they have as you plan to make a choice
Kajabi includes website building and hosting, while Teachable is focused solely on course creation and hosting.
Kajabi includes email marketing and CRM tools, while Teachable does not
Kajabi offers a full suite of sales and marketing tools, such as a landing page builder and webinars, while Teachable's focus is primarily on course content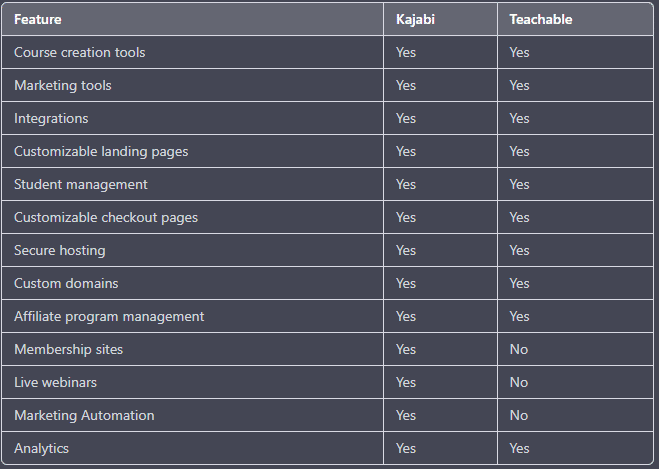 Teachable vs Kajabi: Pricing
Both Kajabi and Teachable offer multiple pricing plans with different features and capabilities. Here is a general overview of the pricing plans offered by each platform:
Kajabi:
Basic: $149/month (billed annually)
Growth: $199/month (billed annually)
Pro: $399/month (billed annually)
Teachable:
Basic: $29/month
Pro: $99/month
Business: $249/month
As you see Teachable's basic plan is cheaper than Kajabi's basic plan, but it is important to note that Kajabi offers more features and capabilities like Membership sites, Live webinars, and Marketing Automation. Further, it is to be noted that users can get some more customized features as per their needs for which they have to connect with the support team of both platforms. Pricing for that customization is not mentioned above as it is variable.
Teachable vs Kajabi: Who is the winner?
Well, who is the winner of Teachable vs Kajabi is something that you have to answer. We tried to clear the confusion by listing the features that the two platforms offer, what are the differences and what is the pricing. Ultimately you have to take a call about which platform has more ticks on the list of must-haves you want.
Both platforms have free plans with limited features. On both platforms, you can start with a free trial and test the features before committing to a paid plan. Ultimately, the choice between the two will depend on your specific needs and preferences. It is recommended to try both platforms and see which one you feel most comfortable using.